Women

Men

Kids

Gear

Brands

Outlet

Gift Cards

VIP Rewards
We couldn't find anything for ""
Kent, WA - Local Running Shoe Inventory
Kent | 444 Ramsay Way Kent WA 98032 | (253) 850-6200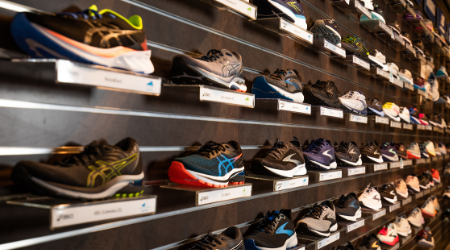 The Best Running Shoe Selection in Kent, Washington
With endless running shoe options, we know it can be challenging to find the right pair that checks all your boxes. Need comfort, style, and speed? You got it. Want a super-light shoe that won't weigh you down? We have that, too. No matter what your fitness preferences are - whether you're a daily runner, weekend adventurer, or afternoon walker, Road Runner Sports Kent has a versatile local shoe inventory with all your favorite athletic brands. With Nike, Altra, New Balance, On, Adidas, Brooks, and more, you can find exactly what you're looking for in your style and fit preferences. Plus, our free 3D Fit Zone will help you better understand your specific athletic shoe needs. After all, it is the most accurate fitting process in the world! Every athlete needs running shoes with the right fit and amount of ankle and arch support to prevent foot pain, blisters, runner's knee, and other issues caused by wearing the wrong shoes.

Take Your Run to the Next Level With Road Runner Sports Kent
Whether you need a new pair of athletic shoes to hike through Soos Creek Trail or you're looking for the best daily running shoes for ultra-performance, we can help you out. At Road Runner Sports Kent, we aren't only running shoe experts. We also carry custom made insoles, R-Gear high-quality performance socks, and KORSA sweat-wicking athletic apparel so you can stay distraction-free and focus on your results. With the right determination, nothing can stop you. Level up your workouts and say goodbye to painful blisters and annoying slippage and sweat with our running shoe inventory!

Start Shopping Our Local Running Shoe Inventory
Ready to get moving? Check out our running shoes from Road Runner Sports Kent. Maybe you want to try your first pair of HOKA ONE ONE® or you're a Reebok devotee and want to reserve your favorite pair for in-store-pick-up. Either way, we can't wait for you to look good and feel amazing in your new athletic shoes!
Skip link
ga('send','event','Store Locator','Click','Road Runner Sports Kent','0');