Women

Men

Kids

Gear

Brands

Outlet

Gift Cards

VIP Rewards
We couldn't find anything for ""
Falls Church, VA - Local Running Shoe Inventory
Falls Church | 1120 W Broad Street Falls Church VA 22046 | (703) 237-3636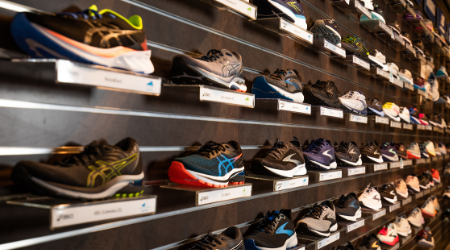 The Widest Selection of Running Shoes in Falls Church, Virginia
When you're looking for running shoes in Falls Church, Virginia, look no further than Road Runner Sports. Our local running store carries the widest selection of athletic shoes, apparel, and accessories for runners of all sizes, shapes, and experience. Trail runners, newbies, and long-distance weekend warriors alike can find the perfect pair of running shoes in our local shoe inventory. Our store carries top brands such as Adidas, Asics, HOKA ONE ONE®, Saucony, On, Reebok, Brooks, Nike, and more! If you're ready to start getting active, or maybe you never really stopped, the team at Road Runner Sports Falls Church can help you find exactly what you need to make your next run the best one yet.

Find the Right Pair of Running Shoes For Your Feet, Style, and Preference
Since everyone's feet and body are different, it can be tough to determine the right fit for you. Do you love a super soft, spongy feel or do you want a firm, feel the ground kind of ride? Are you running on trails, roads, or treadmills? Are you planning on running a race or tacking on higher mileage? All of these are factors to consider when finding the right running shoe. Improper fitting or worn down shoes can not just hinder performance, they can cause injuries too. Find the exact fit that your foot needs with our advanced 3D Fit Zone. After you understand the ins and outs of your foot, you'll be able to better understand how your shoe should fit. Want to make your next run even more comfortable? Try the latest KORSA apparel, or grab a pair of R-Gear Custom Insoles or cushioned socks. All are available in our local running shoe inventory.

Shop Running Shoes, Apparel and Gear at Road Runner Sports Falls Church
Whether you're planning to pound the pavement, take on a new trail, or run your next marathon, our local shoe inventory has hundreds of running shoes to choose from. Save time by reserving your items online for in-store pickup. Start shopping today!
Skip link
ga('send','event','Store Locator','Click','Road Runner Sports Falls Church','0');