Women

Men

Kids

Gear

Brands

Outlet

Gift Cards

VIP Rewards
We couldn't find anything for ""
Shrewsbury, NJ - Local Running Shoe Inventory
Shrewsbury | 490 Broad Street Shrewsbury NJ 07702 | (732) 212-1165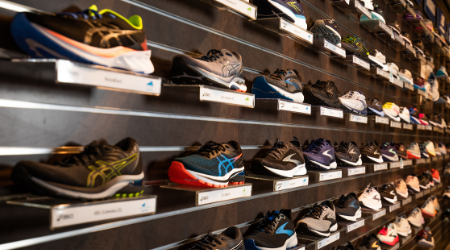 The Top Collection of Running Shoes in Shrewsbury, New Jersey
Runners of all shapes and sizes can find the brands they love at Road Runner Sports Shrewsbury. Our local running shoe inventory hosts top brands like Adidas, Asics, HOKA ONE ONE®, Saucony, On, Reebok, Brooks, New Balance, Nike, and many more! Shop our collection of athletic shoes to find the perfect everyday walking shoes, the next pair of running shoes to help you cross the finish line, or sandals for your next beach getaway. Whether you're looking for 24/7 comfort or a boost in performance, we've got you covered. Make your next run the best one yet with a trip to our local running store in Shrewsbury, NJ!

Keep Your Run Game Strong With the Right Style, Feel, and Fit for Your Foot
The right pair of running shoes can make all the difference when it comes to preventing common running injuries. Nobody wants to run in shoes that are worn out or too loose. Keep yourself from being sidelined by finding the right pair of running shoes for not only your activity, but for your foot! Do you have high arches? Need extra ankle support? Is the width of your foot wide or narrow? Find out with our advanced 3D Fit Zone, available at Road Runner Sports Shrewsbury. We'll give you everything you need to understand what type of running shoes you need to run comfier, faster, and pain free!

The Perfect Pair of Running Shoes Are Waiting for You at Road Runner Sports
From ultra-cushioned to extra ankle support, our team at Road Runner Sports Shrewsbury can help you find the right pair of running shoes for any activity. We carry all of the top running brands, high performance KORSA apparel, plus accessories to improve performance, like R-Gear Custom Insoles and cushioned socks. Reserve running shoes, apparel, and gear online for in-store pickup. Start shopping our local shoe inventory now!
Skip link
ga('send','event','Store Locator','Click','Road Runner Sports Shrewsbury','0');