Women

Men

Kids

Gear

Brands

Outlet

Gift Cards

VIP Rewards
We couldn't find anything for ""
North Brunswick, NJ - Local Running Shoe Inventory
North Brunswick | 501 Shoppes Blvd North Brunswick NJ 08902 | (732) 214-8808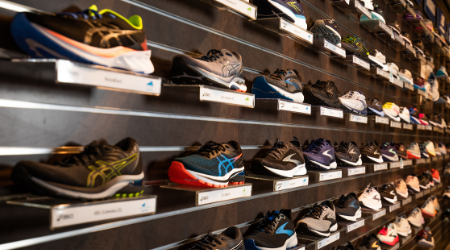 The Largest Variety of Running Shoes in North Brunswick, New Jersey
Road Runner Sports North Brunswick carries an assortment of top running shoe brands including Asics, Adidas, HOKA ONE ONE®, On, Reebok, Brooks, New Balance, Nike, Mizuno, Saucony, and more. Looking for the right pair of shoes to help you increase mileage or improve your speed? How about footwear that provides everyday comfort while walking throughout the day? Road Runner Sports North Brunswick has running shoes for any runner to conquer any activity. Find everything you need from basic walking shoes to high-performance daily trainers and so much more in our local shoe inventory.

Make Every Mile Count With the Right Pair of Running Shoes
Have your ankles been hurting lately? Are you getting blisters? Wearing shoes that are worn down or too tight can cause unwanted injuries. For a pain-free running experience, try our advanced 3D Fit Zone to get a better idea of the fit you'll need for your foot. Whether you need extra cushion due to high arches or have a narrow width to your foot, the more you know about the type of shoe you need, the easier it will be to pick out the perfect pair from our running shoe inventory. Our staff at Road Runner Sports North Brunswick live and breathe running shoes. If you're planning to log extra miles on the treadmill or try a new bootcamp class, we can help you find the absolute best shoe for you!

Shop Our Local Running Shoe Inventory at Road Runner Sports North Brunswick
At Road Running Sports North Brunswick, we carry athletic shoes for any activity from casual wear, hiking, trail running, cross training, and everything in-between. Dress for any type of weather in KORSA apparel - available exclusively at Road Runner Sports, or try a pair of R-Gear Custom Insoles for extra comfort on your next walk or run. Get everything you need to make your next run the best one EVER! Order your running shoes, apparel, and accessories online and then pick up your items in-store at Road Runner Sports North Brunswick. Start shopping now.
Skip link
ga('send','event','Store Locator','Click','Road Runner Sports North Brunswick','0');