Women

Men

Kids

Gear

Brands

Outlet

Gift Cards

VIP Rewards
We couldn't find anything for ""
Elkridge, MD - Local Running Shoe Inventory
Columbia | 6630-C Marie Curie Drive Elkridge MD 21075 | (410) 290-2906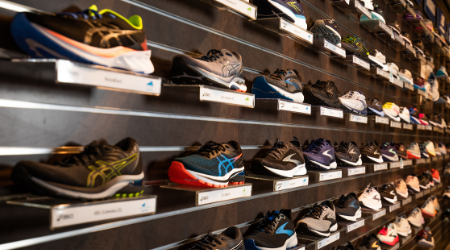 The Widest Selection of Running Shoes in Elkridge, Maryland
Road Runner Sports Elkridge carries the largest selection of running shoes in the area. Our local running shoe inventory contains top brands such as HOKA ONE ONE, Adidas, Nike, Brooks, Asics, Saucony, On, Reebok, New Balance, and many more. Everyone from novice runners taking on their first 5K to experienced trail runners can find everything they're looking for at Road Runner Sport Elkridge. From lightweight running shoes that can do it all to an athletic shoe with added cushion to keep your foot in place, we have it all. No matter your goals, likes, dislikes, or arches, shop our local shoe inventory to find the right footwear to keep you comfortable during any activity.

Make Every Mile Count With the Right Pair of Running Shoes
It's no secret that poor fitting shoes can hinder performance or cause unwanted injuries. Say goodbye to blisters and shin splints by finding the right fit for your unique foot. Our team lives and breathes running shoes and is dedicated to helping you find the right footwear for any activity! Come into our local running store to try our advanced 3D Fit Zone, which can analyze your foot and reveal your perfect-fitting shoes, socks, and R-Gear Custom Insoles . Together, we can customize your best plan for your perfect fit. Plus, you'll be able to shop confidently once you know the exact type of running shoe you need to look for to perform at your very best!

Need New Shoes Today? Shop All Your Must-Haves at Road Runner Sports Elkridge!
Need a running shoe with comfort, stability, and a super smooth ride? We got 'em. Looking for the right shoe to keep you moving in rugged terrain? Look no further. After you find the perfect pair of shoes at Road Runner Sports Elkridge you'll be ready to conquer your next race, long run, trail, or workout classes! Want to kick things up a notch? Road Runner Sports is an exclusive seller of KORSA apparel. Look good and feel good in the latest running styles. Find everything you're looking for easily by shopping our local inventory for thousands of items online and then reserve what you need for in-store pickup at Road Runner Sports Elkridge. Start shopping today and get even closer to making every mile count!
Skip link
ga('send','event','Store Locator','Click','Road Runner Sports Columbia','0');