Women

Men

Kids

Gear

Brands

Outlet

Gift Cards

VIP Rewards
We couldn't find anything for ""
Naperville, IL - Local Running Shoe Inventory
Naperville | 2555 W 75th Street Naperville IL 60540 | (630) 579-3209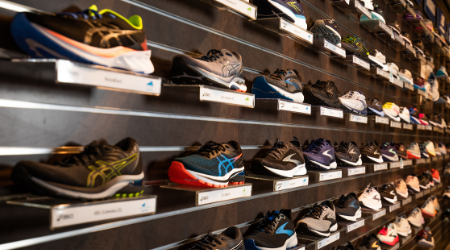 The Widest Selection of Running Shoes in Naperville, Illinois
Our Road Runner Sports Naperville shoe department inventory offers you the best selection of running shoes to fit your unique needs, style, and preferences. Choose from top brands such as HOKA ONE ONE, Asics, Nike, Adidas, New Balance, and more! Whether you're a dedicated marathon runner, or simply need a supportive shoe for everyday use, you can find the best shoe for you from our local running shoe inventory. Level up your performance today with the perfect pair of running shoes to match the athlete in you.

Step Up Your Shoe Game With the Right Style and Fit
Don't settle for less than the best running shoes to get you across the finish line. Whatever your personal fitness goals may be, it is important to equip yourself with the proper gear. In fact, running or exercising with improper footwear can lead to avoidable pain and injury. Instead, try our advanced 3D Fit Zone to determine the perfect amount of cushion and support you need for your unique arch type and foot alignment. To further maximize performance and overall body alignment, try our custom made insoles designed specifically for your feet. You'll be surprised to see the difference in your speed, strength, and balance when wearing the correct pair of running shoes.

Shop Our Running Shoe Selection at Road Runner Sports Naperville
Make every mile count on your next walk, run, or hike by shopping at Road Runner Sports Naperville. We understand that no two athletes are the same, which is why we offer such a vast variety of running shoes. Before you know it, you'll be burning calories in your brand new Brooks or hitting a new personal best in your favorite Mizuno . Need some new apparel? Check out our stylish, incredibly breathable and lightweight KORSA tops, shorts, and more! What are you waiting for? Start online shopping or ordering your in-store pick up items today!
Skip link
ga('send','event','Store Locator','Click','Road Runner Sports Naperville','0');