Women

Men

Kids

Gear

Brands

Outlet

Gift Cards

VIP Rewards
We couldn't find anything for ""
Norcross, GA - Local Running Shoe Inventory
Peachtree Corners | 5275 Peachtree Parkway Norcross GA 30092 | (678) 248-5205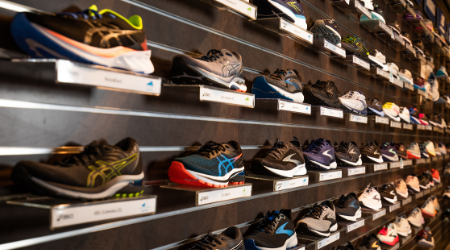 The Best Selection of Running Shoes Available in Norcross, Georgia
No matter what kind of athletic shoes you're looking for, whether for daily walks around the block or intense training sessions, we have endless options available at Road Runner Sports Norcross. With brands like HOKA ONE ONE, Saucony, Brooks, and Adidas, our running shoe inventory is stocked with the best brands and styles that you can find. At Road Runner Sports Norcross, we're all about making sure that you walk, jog, and run in comfort without sacrificing style. Whether you're shopping for your first pair of Asics or want to grab the newest release from Nike, we can't wait for you to find your new favorite pair of running shoes.

Look Good, Feel Good with the Right Footwear
Many athletes are simply wearing the wrong running shoes - from beginners to devoted marathoners. Wearing shoes that are too small or not designed for your foot type not only feels uncomfortable, but it can also lead to injuries down the line. With running shoes that correctly fit, you'll notice an immediate difference in your ability to conquer your goals as you stay safe, comfortable, and motivated. Don't let the wrong pair of athletic shoes cramp your style! Try out our advanced 3D Fit Zone to get a scan of your foot so you can better understand whether your feet are wide or narrow, how much ankle support you need, and what kind of arch you have. From there, you'll be on your way to looking and feeling your best during all of your workouts!

Ready, Set, Start Shopping Our Running Shoe Inventory
It doesn't stop there! At Road Runner Sports Norcross, we're all about making sure you have everything you need for your workouts. That's why we carry exclusive apparel from KORSA and top-quality performance socks and custom insoles from R-Gear. What are you waiting for? Check out our running shoe inventory online and reserve any of your favorite items to pick up in-store!
Skip link
ga('send','event','Store Locator','Click','Road Runner Sports Peachtree Corners','0');