Women

Men

Kids

Gear

Brands

Outlet

Gift Cards

VIP Rewards
We couldn't find anything for ""
Atlanta, GA - Local Running Shoe Inventory
Buckhead | 3756 Roswell Rd NE Atlanta GA 30342 | (404) 855-2424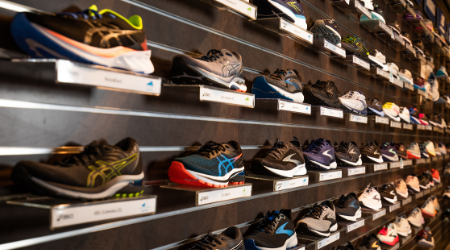 The Best Selection of Running Shoes in Atlanta, GA
Are you looking for new running shoes that look great and feel even better? No matter what your aesthetic or workout preferences may be, Road Runner Sports Atlanta has your back. Our local running shoe inventory is stocked with options that will keep you comfy as you jog through the Beltline or train for your first big race. With footwear from Asics, Adidas, Nike, ON, and more top running shoe brands, you can find exactly what you're looking for from our local running shoe inventory!

Running Shoes Designed for Your Lifestyle
Wearing ill-fitting running shoes can cause all kinds of problems that are hard to ignore. Say goodbye to those blisters, cramps, and aches and pains by grabbing a pair of proper footwear today! With comfortable, reliable running shoes, you'll stop pushing through your pain and start focusing on your goals. Check out our advanced 3D Fit Zone to get professional running shoe recommendations designed for your arch type and foot width with the support you need to get through the finish line, pain-free. Every pair of feet is different, so take care of yours by wearing the right running shoes to help you keep crushing your goals!

Shop Our Running Shoe Inventory at Road Runner Sports Atlanta
Ready to snag your first pair of HOKA ONE ONE®? Maybe you're a Brooks fanatic. No matter what your favorite running shoe style is, we're here to help you find your perfect pair. While you're at it, don't forget to check out our durable, yet lightweight KORSA athletic apparel and R-Gear performance socks to amplify your workouts even further. You can also reserve items online for in-store pick-up! Just swing by Road Runner Sports Atlanta and we'll have your order waiting for you. We can't wait for you to find your new favorite running gear!
Skip link
ga('send','event','Store Locator','Click','Road Runner Sports Buckhead','0');