Women

Men

Kids

Gear

Brands

Outlet

Gift Cards

VIP Rewards
We couldn't find anything for ""
Tempe, AZ - Local Running Shoe Inventory
Tempe | 43 S. McClintock Drive Tempe AZ 85281 | (480) 968-2022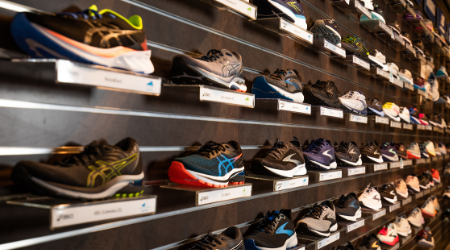 The Premier Place to Shop for Running Shoes in Tempe, Arizona
Whatever your style, need, and preferences may be, our Road Runner Sports Tempe shoe inventory has the right running shoes for you. Every athlete is unique, which is why our local running shoe inventory in Tempe offers a variety of athletic shoes from top brands such as Brooks, HOKA ONE ONE®, Asics, Nike, New Balance, Saucony, and many more. Whether you're a crossfit junkie doing burpees before breakfast, a new runner training for your first big race, or a devoted daily walker, you can find the perfect pair of shoes to maximize your performance.

Finding the Right Fit for a Faster, Stronger You
Are your current running shoes worn out, or even the wrong size or style? This can be incredibly detrimental to not only your performance, but also your safety. Running or training in the wrong shoes is uncomfortable and can lead to unnecessary injuries and preventable pain. That's why Road Runner Sports Tempe offers an advanced 3D Fit Zone to analyze your distinct foot type and determine the right amount of cushion and ankle support needed for your arch type and alignment. To maximize performance even more, shop our custom made insoles designed specifically for your distinctive feet or our renowned R-Gear performance socks made to increase circulation and keep your feet cool.

Shop Our Shoe Department Inventory in Tempe
Road Runner Sports Tempe is here to help you become a better, faster, stronger runner by helping you find a shoe that matches your athletic needs. Already have your running shoe picked out? Reserve them online for in-store-pick-up at our Tempe running store! Looking for a new athletic outfit to match your new shoes? Our comfortable KORSA apparel is so lightweight and breathable, you'll barely notice it's there! Start shopping for shoes and apparel today.
Skip link
ga('send','event','Store Locator','Click','Road Runner Sports Tempe','0');